"To the making of a piper go seven years of his own learning, and seven generations before . . ."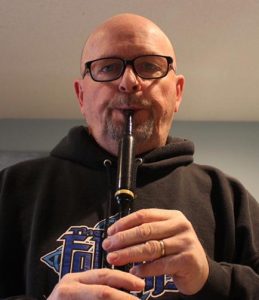 "Rufus played at our daughter's wedding. He was punctual, professional, entertaining, and reasonable in price. He certainly added an element to our day that is unique to the Irish and hard to duplicate in all aspects."
LESSONS
People often ask me if the bagpipes are difficult to play. My response is always, "They are not difficult to play badly!" The pipes have gotten a rather bad reputation for being an instrument that doesn't sound great. I blame that more on the workman than I do his "tool". When the pipes are played well, they have a hauntingly beautiful sound.
I do provide lessons for those interested in learning to play the pipes. Having been a musician most of my life, it is important to me that any instrument I play, I play well. My goal is the same for anyone who takes lessons from me. I want them to play the pipes well.
Please be aware that the pipes are a difficult instrument to learn, but you can learn to play them if you are serious about learning to play. I don't wish to scare you off from wanting to learn the pipes. At the same time, I don't want to waste anyone's time or money in providing lessons. I will provide what is needed for you to become a proficient piper but, how well you succeed will rest almost entirely on you. I spent almost my entire first year on the practice chanter before purchasing my set up bagpipes.
As with any instrument, consistency in practice is a primary factor in learning.
I will not provide shortcuts so you can start playing pipes right away. You should expect to spend a period of time working on the practice chanter before starting in on the actual bagpipes. The period of time will depend on your diligence and consistency in practice.
There is an initial investment of purchasing a practice chanter to get started. There are all kinds of practice chanters listed out on the web, varying in price. I would highly recommend that you not go cheap on your practice chanter. You will use it for the entire time you play pipes so you should get one that is actually in tune and performs well. Cost for a decent one is usually around $100, a little more or less. I can give you guidance on what would be good choices if you need help.
If you are interested in learning to play, please click on the contact tab, fill out the form and submit. I will contact you to discuss what would be involved in getting started in learning to play the pipes.